Key indicators

15.6
AOA billion
-49%
Net result
9.6%
-13 p.p.
Return on Equity
0.9%
+1.2 p.p.
Return on Assets
12.3%
-2.2 p.p.
Solvency Ratio
108.4
AOA billion
+5.6%
Bank Product
48.8
AOA billion
-21%
Operating costs
45%
+5.6 p.p.
Cost-to-income
1,750
AOA billion
+9.3%
Assets
1,524
AOA billion
+23%
Deposits from Customers
454
AOA billion
+3%
Net credit
21.5%
+5.78 p.p.
Credit at Risk
119.4%
-10.62 p.p.
Coverage of Credit Risk
NET RESULTS
ATLANTICO ended 2020 with net results of 15.6 billion Kwanzas, a decrease of 49% compared to the same period last year. This reduction is strongly impacted by the following factors:
a) Decrease of net interest income resulting from the combined effect of increased deposit remuneration costs and decrease of active interest;
b) Significant reinforcement of impairments to cover expected losses in the loan portfolio and public debt securities;
c) Decrease of exchange rates;
d) Decrease of commissioning;
e) Increase in operating costs.
The decrease in results is influenced by the adverse implications that the challenging context generated by the pandemic in 2020 has for the national economy and for the banking sector. However, despite the adversities that were imposed, the Bank continues to present a solid and positive result in 2020.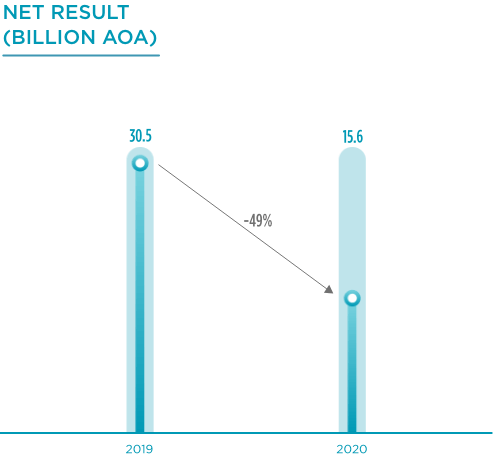 In December 2020, the solvency ratio was 12.3%, showing an evolution of -2.2 p.p., compared to December 2019. ATLANTICO maintains adequate levels of solidity to meet the minimum levels required by Banco Nacional de Angola in line with Basel standards. The Solvency Ratio is above the minimum regulatory ratio established for the national market, which is 10%, thus demonstrating the Bank's capital availability to support risks and business growth.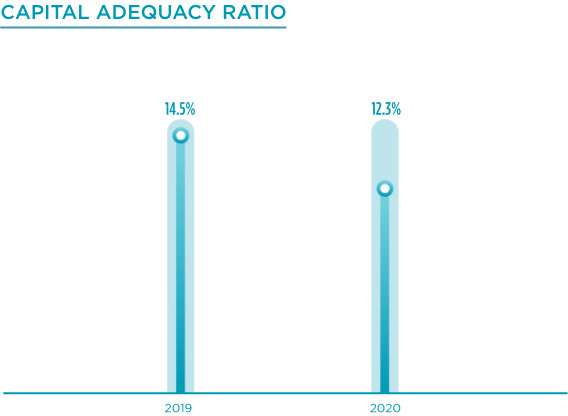 The degree of operating efficiency evolved unfavourably by 5.6 p.p., compared to the same period last year. This behaviour is supported by the slowdown in revenue and the increase in operating costs. The impact of the efficiency measures implemented and the concern with cost management allowed the evolution of this variable to be below the levels of inflation and exchange devaluation of the year. ATLANTICO believes that the continued focus on structural efficiency will continue to bring benefits to the organization.